New Year, New You: Enter 2018 with a Brand-New Smile
Posted by STOCKTON CREATIVE DENTAL on Aug 7 2019, 02:58 AM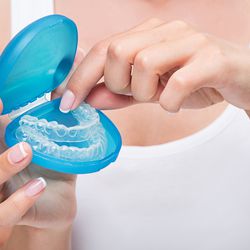 It's that time when New Year's resolutions are being made. The beginning of a new year is exciting in a lot of ways. New ideas are brewing, new adventures are to be had, and you can start over with a fresh new slate. What are you hoping to achieve in 2018?
While many join a gym this time of year to get their bodies in shape, how about showing some extra love to your smile? Are there teeth imperfections that you would like to see corrected? If you are dissatisfied with the appearance of your smile, all it takes is a quick phone call to your cosmetic dentist to get you started toward a brand-new smile.
Cosmetic dentist Dr. Rassiwala in Dublin, CA offers a variety of cosmetic dentistry treatments to help patients make their dream smile a reality. She will perform a smile analysis in-office to customize your treatment plan to your unique desires. Below are some common treatments that can help you achieve the new and improved you. To book your smile analysis consultation, contact our dental office today online or call 925-833-9500.
Replace Those Missing Teeth
Missing teeth are perhaps one of the greatest hindrances. Not only do they mess with the aesthetics of your smile, but they cause self-esteem and functionality issues. To help close the gap – we recommend dental implants for their longevity and realistic results.
These small posts are inserted directly into your jawbone and designed to offer superior support for a dental crown, dental bridge, or full arch denture. The number of implants required will depend on the extent of tooth loss.
Add Sparkle to Your Smile
As you get older, teeth can lose their sparkle and even discolor as a result of the foods you eat. While normal, it's not something you have to endure for long. Mild to moderate dental stains and discoloration can be corrected with professional teeth whitening. Although over-the-counter products may help to a certain degree, they are not as effective as the treatments administered by a cosmetic dentist.
At our dental office, we provide customized trays and prescription strength whitening agents that can be used together to deliver a brighter smile in a matter of days – up to several shades lighter.
Discreetly Straighten Teeth

Crooked teeth can affect teenagers and adults alike. If you have avoided correcting your smile out of fear of what bracket-and-wire braces would do for your appearance and professional life – ask your cosmetic dentist about Invisalign®. This discreet orthodontic solution uses virtually invisible aligners to correct dental misalignment. Aligners are removable so you can enjoy all your favorite foods, and attend important speaking engagements without worrying what others may think. Treatment times vary, but on average you can straighten your smile in about nine to 12 months.
Cover Numerous Imperfections at Once
If there are a variety of cosmetic issues – you may want to consider porcelain veneers. This cosmetic dentistry treatment can address:
Crooked teeth
Gapped teeth
Uneven teeth
Severely stained teeth
Chipped teeth
Misshaped teeth
Using durable and aesthetically pleasing porcelain, custom-made shells are fashioned to cover individually damaged teeth. With your veneers in place, you will notice a brighter, straighter, and more uniformed smile. Many patients opt for this treatment because it can address numerous issues at once in just two office visits.
Ready for a New Smile?
Contact our Dublin, CA dental office today to schedule your smile makeover with cosmetic dentist Dr. Rassiwala. Please call 925-833-9500 or you can conveniently schedule your appointment online.