5 Ways to Achieve a Complete Smile Makeover
Posted by STOCKTON CREATIVE DENTAL on Aug 7 2019, 03:50 AM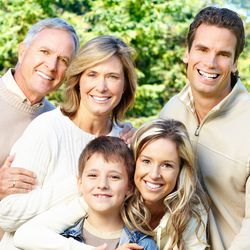 What do you notice about your smile when you look in the mirror? Do your teeth seem dull and stained? Are your metal fillings obvious? Do you have teeth that are uneven and misshaped? Smile imperfections can occur for any number of reasons. Whether you are experiencing tooth loss or you are simply unhappy with the shape of your teeth, there are a variety of dental treatments available that can transform the look of your smile.
Dublin, CA cosmetic dentist Dr. Rassiwala can combine a variety of procedures into one treatment plan to provide a smile makeover. Read on to learn five frequently requested smile enhancement treatments and how they can benefit you. To schedule your consultation, contact our office online or call us at 925-833-9500.
Teeth Whitening
Teeth can begin to lose their sparkle over time. While the foods you eat and drink are a major contributor, other factors can include genetics, plaque buildup, smoking, and the effects of silver fillings. When enamel is discolored or stained due to outside factors, this is typically referred to as extrinsic dental staining. This means only the outer surface of the tooth is affected and will respond well to professional teeth whitening. Dr. Rassiwala can create customized whitening trays to be used in conjunction with a bleaching agent. This allows you to whiten your teeth in the comfort of your home at your convenience. The whitening agent used is prescription-strength and more effective than kits found at your local store. To achieve the maximum results, wear your trays about 30 minutes a day. Within about two weeks you will have a smile up to several shades lighter.
Porcelain Veneers
If staining is severe or a result of tooth trauma, tetracycline medication, or overexposure to fluoride, teeth whitening will not help you achieve desirable results. In cases of intrinsic staining, where the internal structure of the tooth has caused the outer enamel to turn gray or discolor, you will benefit more from porcelain veneers. These small shells are tailor made to fit over each tooth to conceal cosmetic imperfections, such as staining, small cracks, uneven teeth, gaps, or misalignment. Many patients choose porcelain veneers for their ability to address multiple issues at once, streamlining the process and the amount of dental work necessary. Results can typically be revealed in just two office visits.
Invisalign®
If you are struggling from dental misalignment and want to maintain the natural structure of your teeth, you can achieve a straighter smile with Invisalign® aligners. Adult orthodontics no longer have to be noticeable or painful. These discreet aligners are virtually invisible and fit comfortably over your top and bottom teeth to gradually shift teeth into proper alignment. They can be easily removed for eating and cleaning, making them popular among teens and adults. Although removable, to achieve the best possible outcome, aligners should be worn at least 20 hours a day and worn two weeks at a time before upgrading to the next tray in the series. Depending on the severity of your alignment, results can be achieved anywhere from 12 to 15 months, sometimes less.
Dental Implants
Missing teeth can affect your self-confidence and the functionality of your smile. While traditional restorations are effective at restoring smiles, an implant-supported restoration provides superior support and stability. Dental implants are small, screw-like posts that are surgically inserted into your jawbone. They can support a single dental crown or entire denture – depending on the amount of tooth loss experienced. What makes implants so great? They integrate with surrounding tissues and become a natural part of your jawbone. This not only provides a solid foundation, but also promotes better oral health, as the implants keep the nerves within your jawbone stimulated to prevent degeneration.
Metal-free Fillings
A cavity diagnosis used to mean unsightly metal fillings. With the introduction of composite resin, patients today can have their cavity filled without anyone noticing. Made from a combination of ceramic and acrylic that is shade matched to the patient's individual tooth, composite resin provides both durability and realistic results.
Take Our Smile Analysis
Dr. Rassiwala can combine  any of the above procedures into one treatment one to transform your appearance. Your smile makeover will be customized to your unique needs. Before treatment is administered, each patient is encouraged to undergo a smile analysis so Dr. Rassiwala can determine which cosmetic and restorative treatments would be best suited for a personalized smile makeover. To schedule your smile analysis, contact our Dublin, CA office today online or by calling 925-833-9500.